Plano, TX Dentist
Get to Know
Dr. Mohammed Mansour
Dr. Mansour has been practicing dentistry for over 25 years, and in that time, he's most proud of the relationships he's established with his dental patients. Having strong bonds with the people under his care has enabled him to give them healthy smiles and instill good habits that ensure their teeth and confidence will last for years to come. Before you have a chance to meet Dr. Mansour in person, you can learn more about him below.
Where Did You Study Dentistry?
Dr. Mansour began his dental training at the Jordanian University of Science and Technology in Irbid, Jordan, and he graduated in 1995.
After relocating to the United States, he earned his oral and maxillofacial pathology certificate from the Texas A&M College of Dentistry in Dallas. He continued in the program to earn his Master of Science in oral biology and oral maxillofacial pathology in 2011. Over the years, he has continued to refine his skills through his active memberships in the American Dental Association and Texas Dental Association.
Dr. Mansour launched our dental office, Dental Distinction, in 2013. Since then, he's provided his patients with comprehensive, individualized care. He always takes the time to get to know his patients before making dental recommendations, whether they come into our dental office for take-home teeth whitening, high-quality dental implants, or dentures.
Outside of the Dental Office, What Do You Like to Do?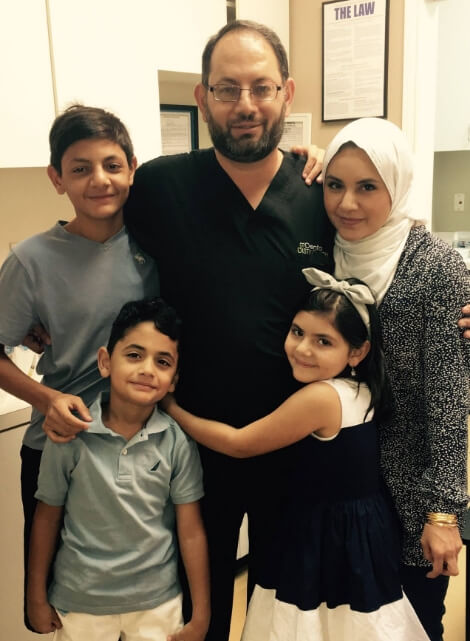 When he isn't at the dental office, Dr. Mansour spends his days researching medical journals and watching medical TV shows. He's also a part-time lecturer at his alma mater, the Texas A&M College of Dentistry, where he teaches the next generation of dentists. Life at home is delightfully busy as well thanks to his wife and five children.